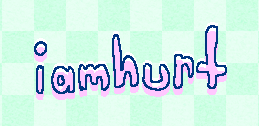 iamhurt goodies
These wonderful goodies are for the IAMHURT bundle.
PayWhatYouCan for 28 desktop wallpapers (1280x720) based off of my work & 19 Avatars for your social networking shenanigans!
Pay $2.00 for the above resolution + 1920x1080 wallpapers
Pay $3.00 for the above resolutions + 2560x1440 wallpapers
Pay $5.00 for a collection of 12 Spritefonts based off of my fonts used in Brokenfolx! These come in (16x32),(32x64)&(64x128) sizes and range from simple flat fonts, to gothic rusted styles!
Download
Click download now to get access to the following files:
if you pay $2 USD or more
if you pay $3 USD or more
if you pay $5 USD or more